You are here:
Women Veterans Research
Women comprise 11% of Armed Forces personnel, although this proportion is expected to rise in subsequent years. To date, research on military and veteran mental health and experiences has focused on the male majority, and comparatively little is known about military service and life as a veteran for women.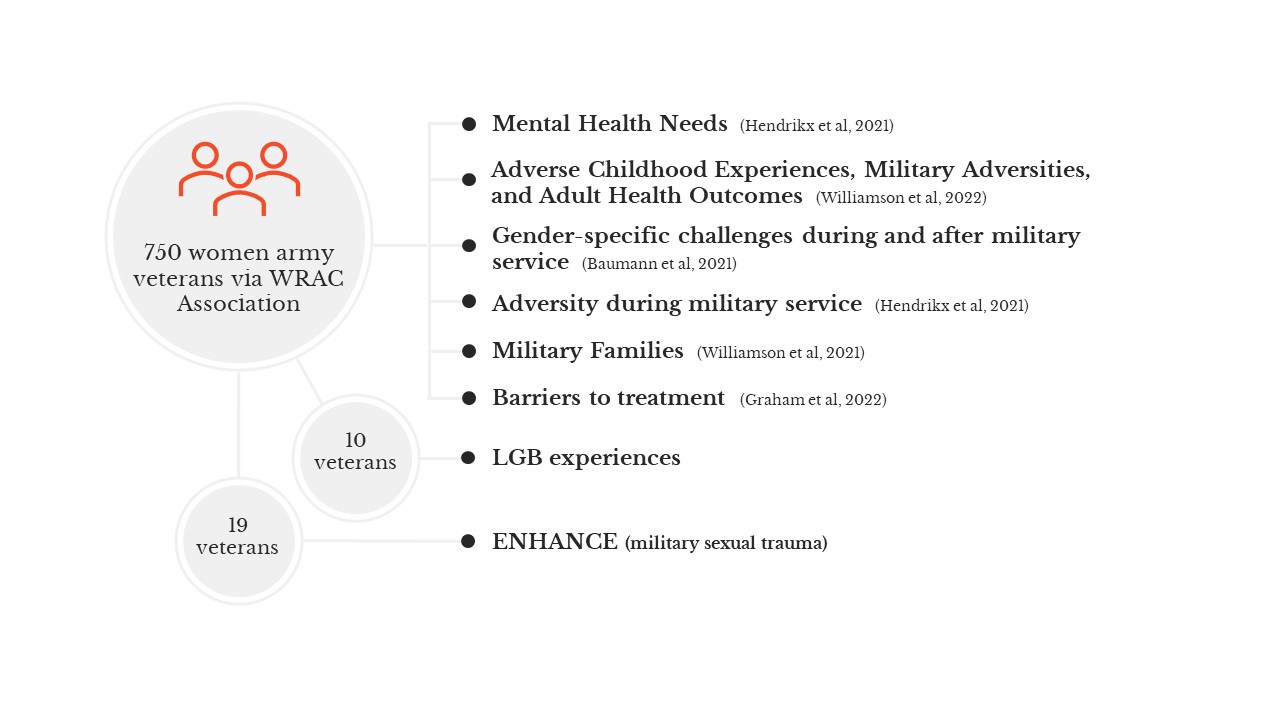 Research into women veterans not only allows for a deeper understanding of veteran mental health but can inform and shape the provision of mental health services and treatment that most effectively meet the needs of the whole UK veteran community.
Combat Stress, working with the Women's Royal Army Corps Association, recruited 750 women veterans for a series of studies to better understand the experiences and challenges faced by women service personnel and veterans.
This work has been followed by two in-depth qualitative studies focusing on improving access to best-evidence treatment for military sexual trauma (ENHANCE), and examining the experiences of lesbian, gay and bisexual women veterans.
Please see below for our professional educational materials on women veterans and military sexual trauma, as well as links to all our wider work.
ENHANCE: Improving access to evidence-based treatment for women veteran survivors of sexual trauma
Military sexual trauma (MST) includes experiences of sexual harassment, bullying and assault that take place during military service. 
Across different countries' militaries, MST has been shown to be prevalent and disproportionately impact women. As a result, MST is considered to be one of the leading causes of PTSD among serving and former-serving women.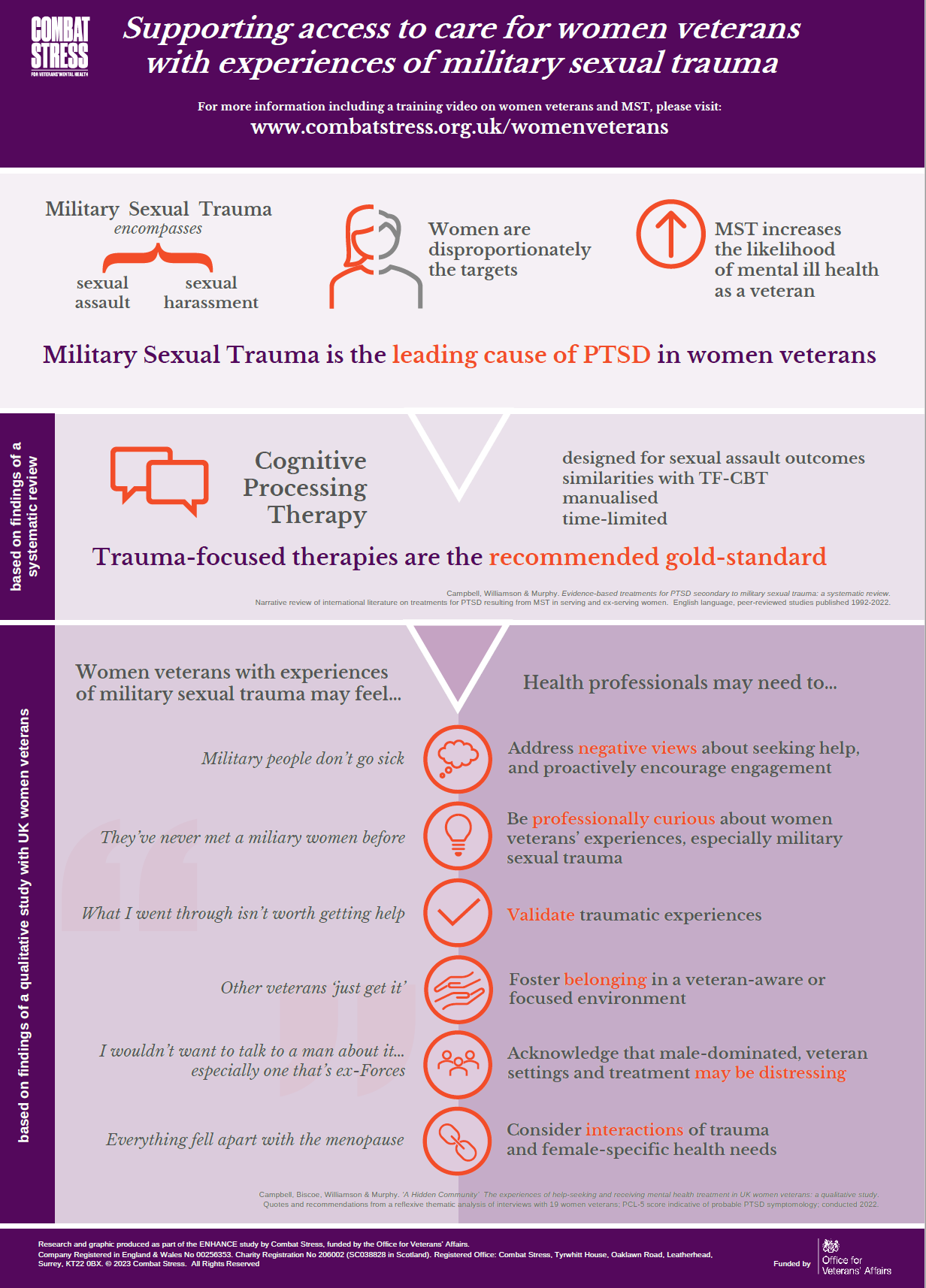 The multi-phase ENHANCE study, funded by the Office for Veterans' Affairs, aimed to help
improve access to best-evidenced treatment for women veterans
who have experienced sexual trauma during military service.
ENHANCE conducted a systematic review examining the published evidence-base for treating PTSD in women veterans resulting from military sexual trauma to identify the best-evidenced treatments. 
The study also featured a qualitative analysis of in-depth interviews with UK women veterans with lived experience of mental health difficulties in order to learn from them how services should and can be adapted to best meet their needs, experiences and engage them in treatment.
The final ENHANCE report included co-produced recommendations for future policy, practice and research as a first stage in ensuring that women veterans can receive the support they deserve from services that fully understand and are equipped to meet their needs.
Combat Stress has also produced two educational resources for those working with veterans.
A one-page infographic summarises some of the key findings of the ENHANCE study, including some key considerations for health professionals working with women veterans in ensuring support is adequately accessed and engaged with by those who have experienced military sexual trauma. Please click the image to download the infographic.
This guided video presentation for professionals provides an overview of the research to date on women veterans, military sexual trauma and the findings of the ENHANCE study.
Understanding the mental health needs of a community sample of UK women veterans
This study revealed that women veterans may have poorer mental health than their male counterparts, including higher rates of depression, anxiety and PTSD symptoms compared to male veterans and the general population.
Many women veterans reported multiple mental health difficulties, particularly those with symptoms of PTSD, depression, and anxiety. Alcohol use was comparatively lower in women veterans, who were also less likely to report anger difficulties than male veterans.
Adverse childhood experiences, military adversities and adult health outcomes among female veterans in the UK
Over half of women veterans studied reported experiencing one or more childhood adversities (ACEs), including emotional, sexual and physical abuse.
These early experiences were associated with reporting mental health difficulties as a veteran, including PTSD symptoms. Reporting experiences of childhood adversity were also found to be associated with experiencing bullying, sexual harassment, and assault during military service.
Adversity during military service
The impact of military sexual trauma, emotional bullying and physical assault on the mental health and well-being of women veterans
Women veterans reported several gender-specific challenges experienced during and after serving in the Armed Forces. While serving, these challenges included bullying, sexual harassment and assault, commonly referred to as military sexual trauma (MST). Experiencing MST was significantly associated with subsequently reporting symptoms of PTSD as a veteran. 
Those who experienced sexual assault were over two and a half times more likely to experience PTSD symptoms and those who reported physical assault were over four times as likely. Sexual harassment and assault were associated with physical health problems and alcohol misuse, and experiencing emotional bullying during service was linked with a range of negative outcomes including loneliness, depression and anxiety.
Women veterans also reported gender specific difficulties in-service including diminished career prospects, a lack of recognition and a lack of access to veteran services. Experiencing these challenges was linked to poorer health and wellbeing.
The impacts of having a first child during service on military mothers
Until 1990, it was military policy to discharge pregnant women.
Just over half of the studied sample (54%) were mothers, 39% of whom felt they were made to leave the military because they had or wanted to have children.
Mothers who had their first child during military service (14.5%) had poorer outcomes, with 44.1% feeling they were treated differently because of childcare responsibilities.
Those who had their first child during service were more likely to report low social support, loneliness and symptoms of anxiety and depression.
Exploring the impact of gender-specific challenges during and after military service on women UK veterans
Many servicewomen report a range of challenges specific to their gender during military service. This includes being treated differently due to their gender, being made to leave the military due to having children, bullying, exclusion, and discrimination. 
As a veteran, gender-specific challenges may also be present, such as finding it harder to transition to civilian life, feeling excluded from veteran events, and problems accessing veteran healthcare. 
Women veterans who met criteria for experiencing current symptoms of PTSD, anxiety and depression, and poor physical health were more likely to report experiencing challenges while serving in the military. 
Women who reported challenges as a veteran, were more likely to hold a lower rank during military service, not be currently working, live in a rural area, and report experiencing loneliness.
Exploring barriers to mental health treatment in the women veteran population
A qualitative study
This study explored the experiences of women veterans in seeking and accessing support.
Five key types of barriers to accessing treatment and support were identified:
lack of access to support (either through availability or a lack of awareness)
lack of understanding and empathy from professionals (both within and outside the military)
gender-related discrimination (not being recognised by a veteran, being treated differently to male counterparts, and feeling that support services were designed for men)
stigma around mental health and help-seeking
being treated differently and unfairly due to sexual orientation, which had a negative impact on mental health and subsequently seeking support.
LGB sexual minority women veterans' experience of military service
A qualitative study
Until 2000, it was illegal for personnel identifying as gay to serve in the UK Armed Forces.
"The ban" led to the investigation and early discharge of thousands of sexual minority veterans.
The Ministry of Defence has subsequently made public apologies, although little is known about the lived experiences of those who served under the ban.
In this study, 10 women veterans who self-identified as lesbian, gay or bisexual were interviewed about their experiences. All reported negative treatment because of their sex or sexuality.
Those interviewed also mentioned buffering factors to these negative experiences, such as positive military experiences including close friendships and travel and sporting opportunities. While veterans recognised the changes that have occurred in the military, they expressed a need for further improvement in the experiences of women in the Armed Forces.