You are here:
Reports and Accreditation
QNVMHS
19th December 2022
Combat Stress were successful in achieving accreditation with the Quality Network for Veterans Mental Health Services. This is a peer review process which addresses 120 standards that enable the benchmarking of quality of care, delivery of service and treatment to veterans receiving mental health services, across charities, independent healthcare providers and NHS organisations.
Standards of best practice and national guidance are reviewed when revised independently by the Royal College of Psychiatrists to ensure continuous improvement and learning. The accreditation provides assurance that robust systems and governance are in place to adhere to standards of quality for veterans receiving mental health services.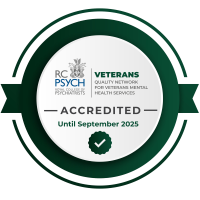 Regulation and Quality Improvement Authority (RQIA)
Inspection Report March 2023

The Regulation and Quality Improvement Authority (RQIA) is the independent body responsible for monitoring and inspecting the availability and quality of health and social care services in Northern Ireland, and encouraging improvements in the quality of those services.
Care Quality Commission

The Care Quality Commission (CQC) monitor, inspect and regulate services to make sure that they meet the fundamental standards of quality and safety. It publishes findings and performance ratings to help the public choose the right care.
The Care Inspectorate reports
In Scotland, The Care Inspectorate inspects and regulates care services to make ensure that they meet the right standards.