You are here:
Community Fundraising
There are lots of ways in which you can get involved in raising funds and awareness.
Joining in one of our community events or organising your own charity event is a great way to help raise money for Combat Stress - take a look at some of our events you can get involved in below or get in contact with your local Community Fundraiser if you have any questions about Combat Stress, the services we provide, how to fundraise for us and the difference you make.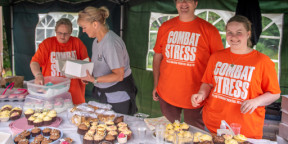 If you have your own fundraising idea or a special event that you want to put on we would love to hear about it. Here are some fundraising ideas and advice.