You are here:
Scott's Story
breadcrumb navigation:
Home

/

current page Scott's Story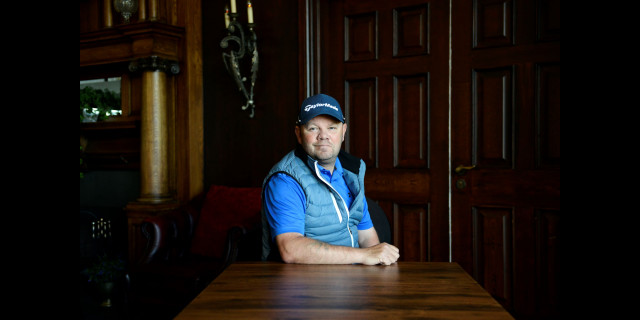 Army Veteran Scott
In his own words.
"I enlisted in the Army in 1989 when I was 17 and started my training at 18. My friends were getting into trouble and I didn't want to go down that route, so I went to a recruitment centre and accepted their offer of joining the Army.
"I joined the Parachute Regiment before serving with the Royal Scots and Royal Logistics Corps during my 22 years with the Army. I served all over the world including two tours of Iraq, two of Afghanistan as well as tours to Bosnia, Kosovo, and Northern Ireland.
"I was still serving when I was diagnosed with PTSD after 18 years in the Army. My role was downgraded to desk jobs and eventually gardening leave, as I didn't have long left to serve. I was able to push on through to my 22 years' service.
"After I left the Army I was living in the south when I approached Combat Stress at Leatherhead for help. I was drinking heavily at the time to cope with life outside the Army so they couldn't help me at that time.
"I moved to Edinburgh, but I started getting into trouble with the police and attempted suicide twice. A doctor saw I had serious mental health issues and asked me to contact Combat Stress again. By that point my drinking was under control, so I contacted them.
"The Combat Stress team identified that I had multiple triggers from Afghanistan, Bosnia and Iraq, but the main one was Bosnia so I undertook a six-week course with the charity. Halfway through treatment my wife, mum, dad and brother visited me. They said it was really useful, as it gave them a better understanding of the ongoing battle I was having mentally.
"My family and friends saw the difference in me as a person who was able to deal with the triggers that come every day. Combat Stress took me to where I am today.
"I'd hurt my back in the Army and was told to find a sport that I enjoyed to help with my recovery. That sport was golf, so I joined the On Course Foundation, which supports the recovery of injured Service personnel and veterans through golf. I played with other veterans and took to it very well.
"They approached me about an opportunity for soldiers to learn to caddie through Caddie School for Soldiers, which I accepted. I completed the course and passed very well, when the caddie master of St Andrews Link offered me a job. I never looked back and I'm now training soldiers how to caddie.
"When I left the Army, I couldn't even speak to a doctor, or leave the house. But the course at Combat Stress gave me the skills to speak to other people – not as well as everyone else, but they've given me the tools to manage.
"That's the reason why I now fundraise for the charity, so other veterans have the care that I received. I've done several big events over the years and soon I'm taking part in the Edinburgh Kiltwalk.
"Combat Stress changed everything for me. When I left the Army, I thought I was finished and there was nothing more here for me but Combat Stress has given me a second chance.
June 2022