You are here:
Paul's story
breadcrumb navigation:
Home

/

current page Paul's story

Paul was only 17 when he first served in the Falkland Islands conflict in 1982 as a Royal Navy air engineering mechanic. It was there he started drinking to numb his feelings. After seven and a half years in the military, he then spent the next 26 years as a policeman in London, but at home, life was difficult.
He used to shut himself away, spending his evenings alone in his bedroom. He was also aggressive and drank heavily outside of work. Paul eventually managed to stop drinking but still didn't feel right. After an ultimatum from his wife, he sought help from Combat Stress where he was diagnosed with post-traumatic stress disorder. Paul credits the charity with giving him his life back.
"Nothing prepared me for my first tour to the Falklands – I had a constant feeling of fear. It was whilst I was out there that I started drinking. I turned to alcohol to numb everything."
Back home after nine months away, Paul didn't have anyone to talk to about his experiences.  
"I returned to the Falklands several more times after my first tour but I didn't really function each time I went back. I was pretty much just doing my job in between drinking."   
After leaving the Navy, Paul joined the police where he worked for over 20 years.     
"I was the life and soul at work. But it was all a front – no one really knew me.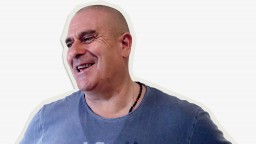 Get help now
0800 138 1619
Call our free 24 hour helpline for veterans and serving military personnel and their families.
 "I found it hard to sleep and used to have night terrors. I also used to be very aggressive and get worked up so quickly – I'd go from nought to 100 in about half a second. 
"I was also drinking a lot. One day, after embarrassing my daughters due to my drinking, my wife said I had to stop drinking. After a lot of thinking I decided to give up alcohol completely as this was the only way to keep my family. 
"That helped but still I didn't feel right. I didn't know what was wrong and neither did my wife Christine. She had said for many years I needed help but I had refused to acknowledge being ill. Christine then gave me an ultimatum that if I didn't seek help, she couldn't live with me anymore.   
"I knew then I had to get help. I went to my GP – it wasn't an easy appointment, I bawled my eyes out. I was subsequently diagnosed with Post-Traumatic Stress Disorder (PTSD) and put in contact with Combat Stress."
Paul attended the Combat Stress six-week residential PTSD Intensive Treatment Programme in June 2016 at the Tyrwhitt House treatment centre in Surrey. 
"From the moment I arrived at Tyrwhitt House I felt safe for the first time in 34 years.
"I used to think I was the only one in the world who felt like I did. But at Tyrwhitt House I found that other people were going through it too.
"Combat Stress gave me the tools to be able to manage my PTSD and live a happier life. I've got my wife, my family and my life back."
Veterans with PTSD don't feel alive or part of life. But Combat Stress is alive and vibrant – life starts again here
---
---