You are here:
Herbie's story
breadcrumb navigation:
Home

/

current page Herbie's story

"Combat Stress is a place you can trust."
Herbie joined the Army in 1977, when he was 16 years old and served for seven years.
"My regiment was the first to do a two-year posting in Northern Ireland, I was just 18 at the time. The nature of the tour was intense, combat would go on for hours with frequent shootings, bombings and severe riots. At the time you get on with it, you're not allowed to think about it, but it had a big effect on me later in life.
After his second tour of Northern Ireland in Crossmaglen and the death two friends, Herbie felt like he'd had enough and, whilst it wasn't an easy decision, decided to leave the Army in 1984.
"I struggled with the adjustment to life on civvy street. I went to work in a factory but found working indoors hard and I began to feel alienated. As time went on things were happening that I thought were normal, but they weren't. I felt very different.
"I moved back to the village I had lived in before I joined the Army. There were a lot of pubs and I began drinking heavily. Around this time my nightmares and night sweats became worse. My wife said if I didn't get help she'd leave me and I began to realise that I needed to do something.
"A friend put me in touch with Combat Stress and I had an assessment in 2011. During the assessment I watched a video called 'You're not in the forces now' and I cried my eyes out – that was me. It was a reality shock and I could see why I felt different. It wasn't just how I was feeling, but also the realisation of what I'd put my family through.
"After that I did a few programmes with Combat Stress, including the PTSD Intensive Treatment Programme. As I lived nearby I was also able to come in on a weekly basis to have outpatient appointments, working on trauma therapy and gradual exposure to triggers.
"They gave me tools and taught me how to cope. I still use the grounding techniques I learnt, using elastic bands or Vicks inhaler sticks. l carry a picture of a big brown bear in my wallet for compassionate imagery – this helps keep me calm and being a big guy it's something I can relate to.
"I'd been carrying a lot of guilt and that weighs you down. It took me a long time to confront those demons, but I can now live alongside them, rather than them controlling me.
"Combat Stress has given me my life and my family back, I wouldn't be here if it wasn't for them. It's not easy, but no-one said it would be. I realised that I was part of the problem, but I was also part of the solution.
"You can sometimes feel like you're the only one who feels this way but when I came to Combat Stress I realised there's thousands of others feeling the same.
"To any veteran who isn't sure whether to contact Combat Stress, I'd say don't sit in silence and suffer alone. There's support out there and people dedicated to helping you. Combat Stress is a place you can trust and they understand everything you're going through."
If you are stuggling with your mental health our free 24-hour Helpline 0800 138 1619 remains available to all veterans and their families.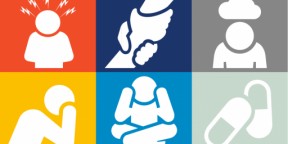 Welcome to our online self-help resources, aimed at keeping you in good mental and physical shape until the lockdown is lifted.