You are here:
Treatment programmes
Helping you live in the moment
We run stabilisation programmes at our treatment centres. This gives you the discipline and skills to better manage your life on a day-to-day basis. The progamme is tailored to you and looks at your symptoms, current medication and explores ways to make changes to your behaviour.
A process known as 'psycho-education' looks at the causes of your mental health issues and how this affects you. This helps you understand your symptoms and includes: 
the impact of traumatic events
the effects of trauma on your family
understanding grief and loss
surviving guilt
adjusting back to civilian life
addictive behaviours
depression management
sleep hygiene –  exploring ways to help you sleep better.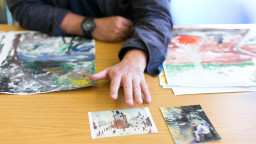 Learning ways of coping
We offer training so you can learn how to manage and understand difficult thoughts, issues, feelings and memories. This can include:
mindfulness – where you pay attention to the present moment, your own thoughts and feelings and to the world around you 
anxiety management
anger management
grounding techniques – this is a coping strategy designed to 'ground' or connect you with the present moment and is often used as a way of coping with flashbacks.
Activities-based rehabilitation
We also offer a range of different activities therapies to help you manage your symptoms. These include:
physical exercise and outdoor pursuits
structured health and well-being activities.