You are here:
Honouring the Battle of Saragarhi
Saturday 12 September 2020 commemorates the 123rd anniversary of the Battle of Saragarhi, an extraordinary event, which has gone down as one of the most courageous 'last-stands' in history and exemplifies the bravery and commitment of Sikh soldiers.
The History of the Battle of Saragarhi
An act of loyalty and courage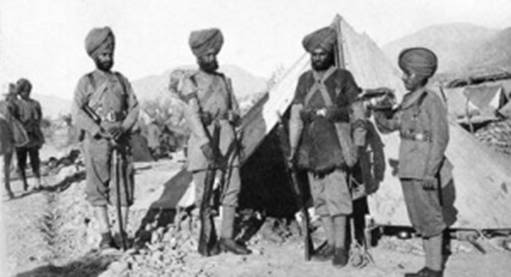 On 12 September 1897, 21 non-commissioned officers and men of the 36 Sikh Regiment of the Bengal Infantry defended the Saragarhi outpost in the hills of the North West Frontier Province (now Pakistan but then part of British India) against 10,000 Afghan tribesmen.
Rather than surrender, the soldiers fought to the death - for almost 10 hours. Although the outpost was lost, the Afghans admitted to losing around 180 of their soldiers, and many more wounded, demonstrating the expertise of the Sikh soldiers.
To honour the selflessness and bravery of the Sikh warriors, they were all posthumously awarded the Indian Order of Merit, the highest gallantry award of the time.
Celebrating all Sikh soldiers today
The impact of the Battle in modern history
Now, the day offers us an opportunity not only to pay tribute to these 21 courageous soldiers, but to honour the Sikh soldiers who have fought in all wars and conflicts, and to celebrate those who serve within the Armed Forces today, as Regulars, Reservists and Cadets.
We extend our thanks to all Sikh people within the Forces – past, present and future - for their sacrifice and service.
Thank you.