You are here:
Rebecca's Story
breadcrumb navigation:
Home

/

current page Rebecca's Story

'I felt like there
was no way out'
As a ward master in Afghanistan, Rebecca saw countless soldiers, civilians and children who were critically injured or dying.
Rebecca only noticed how much these experiences had affected her years later, while she was stationed in the UK.
"I was thinking very negatively and I started feeling like I couldn't cope. I felt like I couldn't do my job properly and my state of mind had an enormous effect on my relationships.
"I decided to leave my job because I needed distance from the Army, but I stayed as a Reservist with the hope of one day going back. I started lecturing part-time at my local college, hoping a new job would help my problems go away.
"But I was battling with suicidal thoughts. I was terrified, so I went to my GP for help."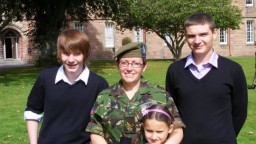 Rebecca's doctor suggested that she get in touch with Combat Stress. Shortly after calling our Helpline, she was diagnosed with PTSD.
Rebecca started having one-to-one sessions with a member of the community mental health team before she completed the six-week PTSD Intensive Treatment Programme (ITP) at Hollybush House.
"I'm so glad I did the ITP because I've got a lot out of it. I learnt techniques to manage my mental health problems in the long-term and as a result I take better care of myself. I also think the ITP made me feel more comfortable in speaking about my experiences, and in turn I've been able to express myself better at my local Peer Support meetings.
"I was planning on going back to the Army, but after the ITP I realised I wanted to focus on just living my life without having too much on my plate. So I decided to leave."
Now Rebecca says she feels stronger than ever and enjoys helping other veterans as a Peer Support volunteer, which she does alongside her job as a social sciences lecturer.