Filming at Combat Stress
Thank you for your interest in filming at Combat Stress. All filming must be arranged through our Media Centre in advance.
For news crews:
Our spokespeople, clinicians and veterans are available for interview.
Please call 01372 587168 or email Nicola Hudson. 
For documentary / film makers:
Please complete a filming application form.
We need two to three weeks to process a filming request.
Given the high volume of requests we receive, we are only able to meet with production companies that have a commission.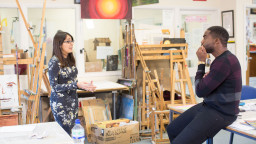 Things to bear in mind when filming at Combat Stress:
Crews must remain in the agreed locations and will be accompanied by us if they wish to move to other areas 
Crews must not change the premises in any way, i.e. move furniture or artwork without our consent. Anything that is moved must be changed back once the filming is complete. Filming and photography can be accommodated Monday to Friday. Requests for weekend filming will be assessed on a case by case basis
Crews must have their own insurance policies to cover damage to Combat Stress items or property and public liability insurance 
We must know in advance if you need to use our electrical sockets. If you do, all items must display a PAT sticker showing they have passed the test and everything needs to be plugged in via circuit breakers which you must provide 
We need the names and vehicle details of all those attending in advance of the filming
Where can you film?
We have a variety of locations where filming can take place and can discuss this with you:
Consulting rooms
Library
Lounges
Games room
Activity Centre (including painting, music and woodwork)
Gym
Gardens
Sensory room
Respecting veterans' privacy
There are some limitations as to what can be filmed – we do not allow therapy to be filmed, even if the audio is not recorded:
For many reasons some veterans will not want to be filmed, even if they are in soft focus
When veterans attend a treatment centre, they live on site during their stay. Veterans will be undertaking intensive therapy programmes and crews must be sensitive to this
If there is a risk that filming could interfere with a veteran's treatment, we may not be able to accommodate filming
We reserve the right to terminate an interview or replace an interviewee on advice from our clinical colleagues
Please watch our video filmed at our Tyrwhitt House treatment centre to give you an idea.
(credit: Services Sound & Vision Corporation)