You are here:
Armed Forces Week 2020: Supporting our Forces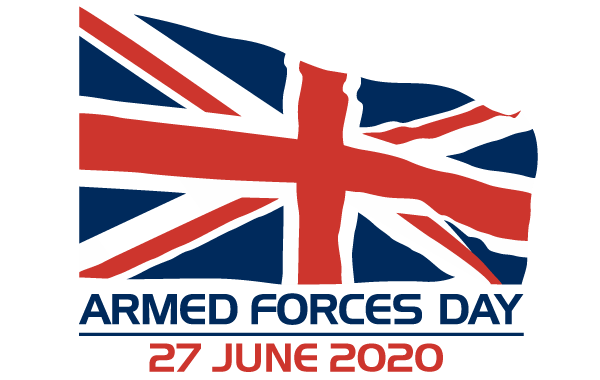 This Armed Forces Week we're celebrating the important role every member of the Forces plays in protecting our country. We thank them for their service and sacrifice.
First observed in 2006, this annual, week-long celebration provides an opportunity for the general public to come together as we recognise and support our services, with special emphasis throughout the week on Reservists (Wednesday 24) and Armed Forces (Saturday 27).
What is Armed Forces Day?
Armed Forces Day (formerly Veteran Day) takes place on the last Saturday of June. The celebrations originate from 2006 when Gordon Brown (then-Chancellor of the Exchequer) announced plans for a day to ensure the contribution of veterans was never forgotten. The date was chosen to commemorate the anniversary of the investiture of the Victoria Cross in Hyde Park, London in 1857. In 2009, the name was changed to Armed Forces Day to further raise awareness and appreciation of those in active service.
Celebrations began on Monday 22 June when the Armed Forces Day flag was raised on buildings and famous landmarks around the country.
The week surrounding Armed Forces Day is a chance to show your support for the men and women who make up the Armed Forces community: from currently serving troops to service families, veterans and cadets. Reserves Day (Wednesday 24 June) also provides an opportunity for us all to recognise our Reserve Forces.
Why should you get involved?
Showing support for the Armed Forces provides a much-valued morale boost for the troops and their families. It also gives the public a chance to show their support and appreciation for the Armed Forces.
If you'd like to join us in recognising those who sacrifice so much for our country, then we've created a pack to help you mark Armed Forces Week.
Our Armed Forces Day Pack includes more information on the week and a variety of ways you can show your support while at home, including: a virtual quiz, baking ideas, and colouring-in templates so even the kids can get involved too!
Who does Armed Forces Week celebrate?
The Armed Forces
The UK Armed Forces defend the UK and its interests. They are busy working around the world, promoting peace, delivering aid, tackling drug smugglers, providing security and fighting terrorism.
Veterans
A veteran is anyone who has served in the HM Armed Forces at any time (including National Servicemen, Regulars and Reserves). Armed Forces Day celebrates their continued role within the military community. You can find out more information about the support we provide for veterans by visiting our Get Help page.
Reservists
Reservists give up their spare time to serve in the Reserve Forces, balancing their civilian life with a military career to ensure that should their country require them, they would be ready to serve. An annual Reserves Day celebrates their contribution to the Armed Forces.
Cadets
The Cadet Forces (Sea Cadets, Army Cadets, Air Cadets and the Combined Cadet Force) currently support over 130,000 young people in more than 3,000 locations across the UK. Cadets learn life and career building skills as well as gaining vocational qualifications.
Families
Our Armed Forces couldn't do their job without the incredible support of their family and friends. We know that families are often impacted by the job their loved one does, protecting our country – so it's important we recognise the role they play too.
Celebrate at home and show your support
If you'd like to show your support for our Forces, don't forget to mark the week at home with our free, downloadable Armed Forces Week Pack.