You are here:
In your community
What do we do?
Our regional community teams work with you to help you understand your symptoms, and to access treatment and therapies to support your recovery. 
Our community teams
We have community psychiatric nurses and occupational therapists in our community teams in West Scotland, East Scotland and Highlands. They offer groups, workshops and individual therapy sessions.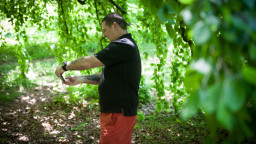 Our Psycho-education groups
The groups run over three months and each one focuses on a different area. We cover different topics including advice about anxiety, depression, sleep, trauma, substance misuse and anger management.
Our occupational therapy workshops
Occupational therapy can help rebuild your life by focusing on work, leisure and how to look after yourself. We encourage you to think about exploring volunteering or paid work, studying or learning a new skill or hobby. 
We run occupational therapy workshops in the community. The workshops run over seven weeks and each one focuses on a different area. We look at topics including physical health and well-being, relationships, behaviour, beliefs, emotions and thinking. It is a safe environment to discover new skills, problem solve difficulties and build a toolbox of skills, encouraging you to play an active part in your daily life with friends and family.
Individual sessions
We can offer individual sessions if group workshops are not suitable for you.
Get in touch
Our community workshops and individual sessions are available across the UK after we assess what support you need and whether our services are suitable for you.
Sometimes we put you in touch with other organisations who can also provide mental health support.
To find out more, please call our Helpline.